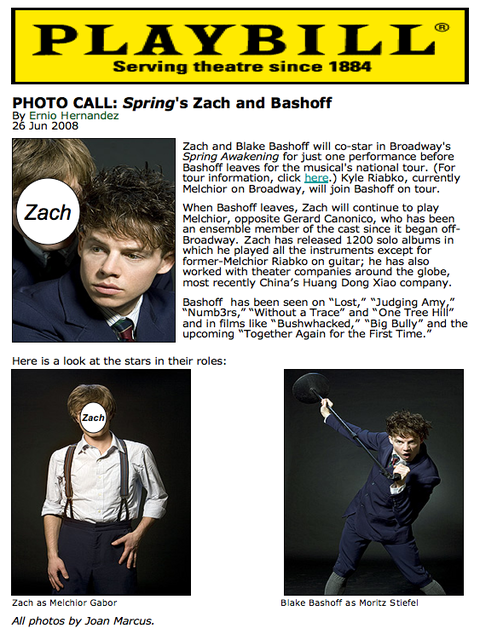 (Sorry I didn't notice this on Playbill.com earlier!)


OMG YOU GUYS!

Mary's working on the scrapbook for me to give him. So get your entries is NOOOOOOOOOOOW!
I'm so excited I almost can't even type! Zach is going to see the current cast of Spring Awakening one more time before he takes over as Melchior. And guess who just happened to snag the seat RIGHT NEXT TO HIM in the audience! It's going to be the BEST NIGHT OF MY LIFE! I finally get to meet Zach! I'm already his #1 Fan. I'm just going to DIEEEEEEEEEEEEEEEEEEEEEEEEEE when I finally meet him!
Fanclub site
.
sexxybconnect1
is going to collect them all and make them fabulous.
Make sure to get your stuff in before Zach's first performance!!!!!!!!!!!!!!!!!!!!!!!!!
Ok, everyone! You can post your contributions for Zachior's welcome scrapbook here or on the
Zach is still answering questions on the previous post, but I wanted to make sure we all have somewhere to post our good luck wishes, since he goes on in just a couple of weeks! So, post away!
OMG guys! This is your chance to ask Zach everything you want to know about him and about his new role as Melchior! Just reply to this post and I'll compile all the questions for him! OMG! I can't wait!
fans subjects,

As you all have heard by now, I have been cast as Kyle Riabko's replacement in Spring Awakening. I will begin playing Melchior on an unspecified day in August. I will begin rehearsals next week to prepare for what will-no doubt-be the absolute best performances in the history of Spring Awakening. Everyone in the cast has told me that I will most likely surpass Gavin Creel, Jonathan Groff, Robi Hager, Jesse Swenson, Matt Doyle, Matt Shingledecker, and Kyle Riabko as the most mind-blowing Melchior ever.

Michael Mayer, Steven Sater, and Duncan Sheik have all agreed to add a few things to the show for me. Some really bitchin' things, I might add.

-A new song entitled "BESTCHU EVAH HAD!" it comes in right after "I Believe" when Melchior is telling Wendla that he is without a doubt the best sexual partner she will ever have.
-A new scene in which all Melchior does is pwn his classmates with simple one-liners.
-A new song for Melchior, Wendla, Moritz, and Ilse which basically is about how Melchior defines their childhood and their lives.
-Instead of "The Song of Purple Summer" being the finale, Melchior will have another song entitled "SEE Y'ALL LATAH!!"
-And, finally, instead of "Those You've Known," Melchior, Wendla, and Moritz-but mostly Melchior-will perform a heart-wrenching rendition of "THE FINAL COUNTDOWN."

I promise to update you all once rehearsals begin.

Thank you.
Love Sincerely Respecftully FROM,
-Zachary S.
Dear loyal